Pumpkin Patch Fundraisers began in 1974 in North Carolina with 3 acres of pumpkins and a partnership with one church. We agreed to let the church sell the pumpkins and they would share the proceeds. There was no contract, no legal proceedings…just a handshake and trust in each other. Richard and Janice Hamby have been growing pumpkins and adding partners ever since.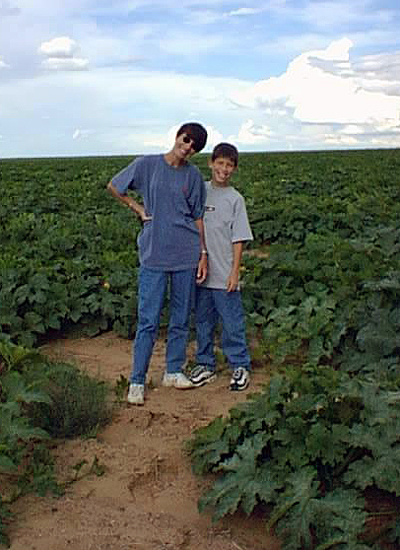 It's a wonderful partnership of trust. The churches and non-profit organizations trust us to grow and deliver great pumpkins. We trust those organizations to be diligent in selling their pumpkins, honest in reporting their sales, and attentive to paying our percentage of sales. We are responsible for all of the costs associated with growing, harvesting and shipping. To ensure that our partners have a successful patch, we bear all of the risk of loss due to theft and spoilage. While it is unusual in the business world, this relationship of trust has been very effective throughout the years.

After being hit by Hurricane Hugo we moved our farming operations to the Navajo Indian Reservation in Farmington, NM. In cooperation with the Navajo Nation, we grow 1,200 acres or approximately 2 square miles of pumpkins and employee over 700 Native Americans during our harvest months of September and October. We also have a full time off-season NM staff that is comprised of entirely Native Americans. This has a positive and lasting impact on a region with 42% unemployment.

Since 1974, our Pumpkin Patch family has grown to over 1,000 organizations covering the Continental US, representing 25 denominations of churches and youth groups, schools, fraternal organizations, Knighs of Columbus, Scouts, habitat groups and other civic organizations. The Hamby's son, John, has now graduated from college and joined the company to continue another generation of family focused business. The entire project is still based on trust.

Pumpkin Patch Fundraisers is dedicated to providing a quality fundraiser for non-profit partners through availability of products and resources providing customer service, support and encouragement.

Discover why and how we do it; and how we can help you too!

A look at some of our fundraising events…

Find out how to book a fundraiser today. We charge nothing up front and can help plan and coordinate your fall fundraiser this year. 
Call 800-453-9793 Monday through Friday between 9am-5pm EST.